After many years of professional development in process automation and quality control for companies of different markets, Sierra was born in 1988 with the goal to pay special attention to the embroidery industry.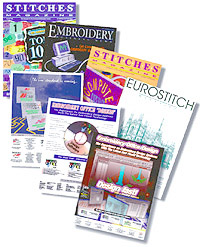 The productive process orientation (instead of task orientation) has given us a clearer vision of whole activity of each type of company. In particular, for the embroidery industry it is pretty obvious that the different tasks should be strongly coordinated (task orders, design creation, embroidery production, etc.) to get the needed quality. Any task that was not well done or any trouble in productive process can lead to important lost.
We believe that the market opportunities of each company are in direct relation with the manager's commercial vision and the competitive level of their production. In this last point is where Sierra want to help you through technological solutions, allowing better production conditions, tasks simplification and control improvement.
First Generation

The first Sierra development for the embroidery industry was a complete automation of very old embroidery machine, from the first generation. These machine works thanks to a device called jacquard that read the designs mechanically from a 68mm cardboard tape (wide). Then the jacquard transforms that reading into frame movements, again mechanically. Those machines cannot read disks, and have only one engine to both needle and frame movement and jacquard reading. Logically that device is the most sensible part of the machine and has frequent and expensive maintenance requirements. It is not possible to edit designs in the tape, just few corrections that are extremely difficult. The production speed of these machines rarely surpass 350 stitches per minute, because mechanical limitations.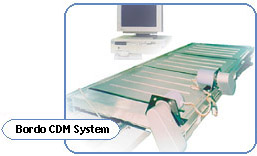 When Sierra automates the embroidery machine (Bordo CDM System), the designs can be read from disk in standard code, browse designs from a directory (in the original version was show in text, but in later version was in graphical format), you can edit and modified designs in a easy way, a new electronic pantograph with 2 engines improves substantially the embroidery quality, the production speed can reach 450/750 stitches per minute and the maintenance requirements are minimal. The "automation" was develop in a way of a "flexible kit", easily adaptable both to standard and bridge type. Still today there are a lot of automatic Sierra machines working in many countries, with almost no maintenance. Most of the features that perform that system are common in last generation machines.
Tape Reader: Sierra develops a 68mm tape reader (Bordo WT) that allow convert design from the tape to a standard code in a computer or directly to the Sierra automation installed in an embroidery machine. The huge amount of designs that an embroiderer store in big an uncomfortable warehouse can be transform to computer files, stored in a computer or just few diskettes (minimum space required) and converted to a different codes to be use in a Sierra automation system or a brand new machines.
Tape Puncher: Sierra develops a tape puncher (Bordo WP) that allows file conversion to tape to be used in first generation mechanical machines. Which is the goal of that puncher? For some mechanical machines (generally the smaller) the automation was not viable because was not cost-effective. In order to supply with designs at lower cost, that were created at a computer program and then converted to tape.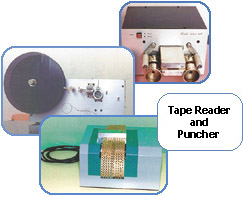 Second Generation

The second generation of embroidery machines includes the electronic type models, where the designs came in a telex type tape (8 channels) and are read electronically. Those machines are functionally more complete than the mechanical machines, but yet very limited in compared with present models and also compared with Sierra automation system. As an example, some models don't have design memory and some have just very little memory. These machine works at higher speed than the originally mechanical machines; bit has their weakness in the low flexibility of tape designs.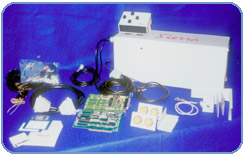 For those machines Sierra develop a system (Bordo CD) that allow the machines works directly from disk, seek designs from a graphical catalog or standard diskette, show the design on the screen, see color sequence, edit and modified it, and up to code conversion. Once the machines was modified by Sierra, they can be connected between them allowing the computer where the designs are read and edit send them to many embroidery machines, still from different models. This was the born of a connectivity concept.
Third Generation

The models from this generation are those offered by the manufactured presently in the market. Most of those machines are at the present technology boundary so they don't have any competitive or productivity problem (could be improved, but with extremely high cost). Then, which is the problem with these machines? Unfortunately the manufacturers doesn't agree about disk codes, or memory boards or kind of communication between machine and computer. The worst part is that the users suffer from this because it is not possible to work with two machines from different brand equally; and in some cases, it is not possible to work in the same way with two machines of different model from the same brand!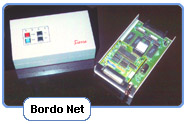 When is possible (that is not ever) connectivity products from Sierra allow to send designs to machine avoiding diskettes, in the same way for machines from different manufacturers and different models; still with embroidery machines from different generation. The connection type can be "direct" (the chipper ones) or in a "network" (Bordo Net) that more expensive but include very easy design administration.
Software

With the idea to bring a more extensive and complete products line applied to the embroidery industry, after an study about the needs of the companies and the market existence offer, Sierra starts a new project called Bordo CAD that allow embroidery design creation from a computer. The original goals of this project lead us to build an innovative and unique system, as for their very friendly interface (rarely found on system from that time) as for the organization, productivity and embroidery quality achieve. This system was the predecessor of EO Design, included in the Embroidery Office® line of products.